Reducing water waste and saving money for large organizations is a part of our mission. If left unmeasured and unanalyzed, leaks can quickly become expensive. At Mountain Vector Energy, we analyze millions of data points to provide actionable energy intelligence for our customers. Here are some insights into water utility management from the data we've analyzed using out water utility management software, Cufflink.
Detect Abnormalities Early

This domestic line was dumping water into a pond at a rate of 1,698 gallons per hour. If allowed to continue all month, the cost would have been $26,588.

A faulty backflow preventer caused 1870 gallons per hour to dump into a courtyard. If allowed to run all month, this would have cost $8,474.

Even a stuck toilet can be costly if left unchecked. This toilet ran for 2 days for a cost of $271.

Changes in water usage may trigger other utility changes

When managing utilities, it's important to understand how changes will affect your total utility cost. We analyzed data across a large organization to find the correlation between water and gas usage. Specifically, an increase in makeup water leads to increased natural gas usage.

Real-time insights are key to decision-making
We're able to analyze our clients' real-time water cost using Cufflink. Interacting with water data at a granular level lets us discover how usage actually affects cost. Since we're able to pull all utility data into one place, we're also able to find correlations between the different utilities.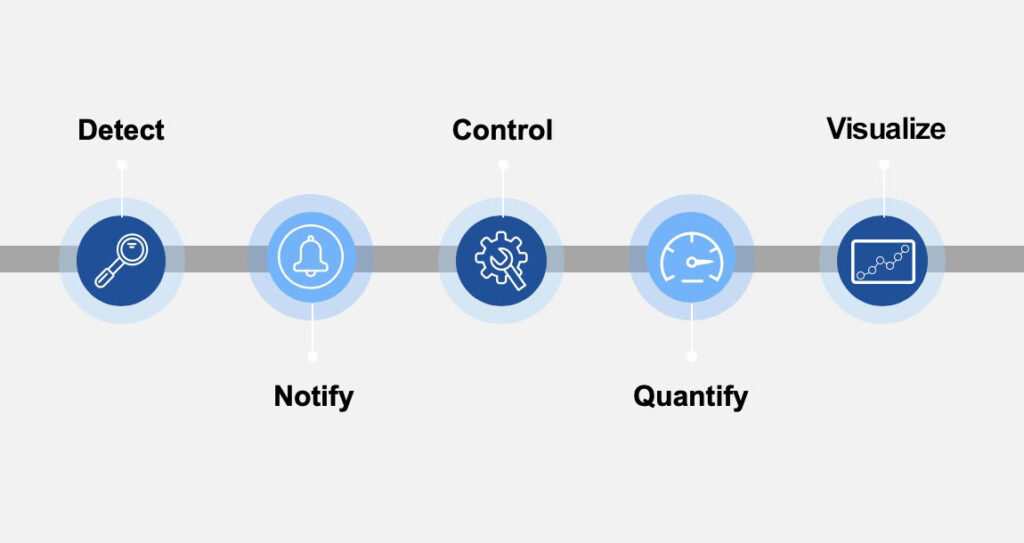 It's important to be able to:
Detect any changes in your buildings' operations
Notify of anomalies or pre-defined triggers
Control your equipment to respond in the way you decide
Quantify your utility usage and spend in real time
Visualize layered data from multiple sources
We invented Cufflink to enable money-saving decisions. It's the only software that's able to show the cost of water and energy usage in real time. Timely action is key to reducing water waste.